Acquaintance
Acquaintance

Quest data
Type
Completion
Location
Any
Given By
Jaeger
Required for
Kappa
Yes
Acquaintance is a Quest in Escape from Tarkov.
| | | |
| --- | --- | --- |
| " | Well hello there! I've been watching you for a long time - I've heard about your good and bad deeds. In our difficult time, it is hard to remain the same person - you have to choose the side. So here I am on the side of those who clean our land from various infections, the ones that drag us further into the dark abyss. If you would like to join, I will be glad of any help. The mechanic let me know about your track record, says one can rely on you. And given the circumstances I have no more will power to stay away from what is happening in the district. At first, I thought that it would be best to sit out in the wilderness in my reserve. But after what the local bandits started doing, after all these murders and robberies, after what they did to our city ... In general, I definitely need your services. And first of all, I need you to get supplies. The hermit's lifestyle routinely depleted my provisions. | " |
| | | |
| --- | --- | --- |
| " | Thank you. Now we can move on to the main business | " |
The Provisions required for this quest have to be found in raid. These items can be commonly found in many maps such as Reserve, Interchange, and Shoreline.
Food can be most easily found in the kitchen wing of the black bishop building. In the locked caged rooms in the underground bunker are many loose food item spawns and Ration supply crates. These crates spawn a large amount of food. The number of supply crates in each room is written in red on the map below, as well as the location of the kitchen being circled.

Lots of food items can be found scattered throughout the admin/theatre building at the resort.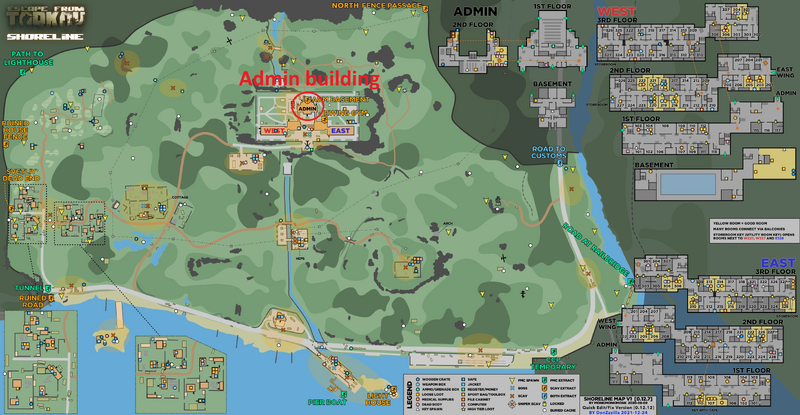 There is a grocery store called Goshan (red on the map) packed with food. Check all the shelving to find it. A flashlight will be helpful for all the dark corners.