Interchange

General data
Type
Story location
Duration
45 minutes
Interchange is a location in Escape from Tarkov. It is the fifth location that was added to the game.
Description
[
]
The South interchange is a key location for transport in the city. This strategic area connects the port and harbor with the industrial outskirts of Tarkov. Located in the center of the interchange is a huge ULTRA shopping mall which was used as the main base of operation for the EMERCOM evacuation.
Features
[
]
Three anchor stores:

IDEA (a furniture store)
OLI (a hardware store)
Goshan (a grocery store).
Many small stores that sell a wide variety of products including electronics, clothing, exercise equipment, firearms, and food.
Outside there is a go-kart track, large parking lots, small wooded areas, and numerous roads.
A fully linked illumination grid, able to be switched on at the power station.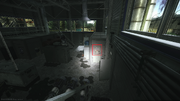 Alarms around some stores and a triggerable alarm at the Kiba Arms Store. The alarms can be switched off at designated terminals:
Usable Keys
[
]
| Icon | Key Name | Loot | Used in Quest |
| --- | --- | --- | --- |
| | OLI administration office key | | |
| | OLI logistics department office key | | ✔ |
| | OLI outlet utility room key | | |
| | ULTRA power substation utility cabin key | | |
| | NecrusPharm pharmacy key | | |
| | KIBA Arms International outlet outer door key | | |
| | KIBA Arms International outlet inner grate door key | | |
| | EMERCOM medical unit key | | ✔ |
| | OLI cash register key | | |
| | IDEA cash register key | | |
| | Goshan cash register key | | ✔ |
| | ULTRA medical storage key | | |
| | Object 21WS keycard | | |
| | Object 11SR keycard | | |
Table Legend
[
]
Boss
[
]
Name
Image
Location
Unique Equipment
Followers
Killa
Patrols around the central area around KIBA

or in GOSHAN, IDEA, or OLI. Can also be in

the parking garages below IDEA and OLI.
Can move to other areas upon aggression.

RPK-16 5.45x39 light machine gun


Maska-1Shch bulletproof helmet (Killa)




Maska-1Shch face shield (Killa)


6B13 M assault armor (Tan)


Blackhawk! Commando Chest Harness (Black)

None
Extractions
[
]
To locate the extractions use the maps below the table.
Extraction
Name
Faction
Always available
Single-Use
Requirements
Notes
Emercom Checkpoint
All
✔
✘
-
Hole in fence
PMC
✔
✘
No backpack
Power Station
PMC
✘
✔
per player

Maximum of 4 players

Stay extremely close to the car after paying or it will depart without you, leaving you 3,750 Roubles poorer and at least 3 minutes of hard sprinting from any other extraction.
Note that the extraction zone is buggy and getting too close to the toll barrier will make you exit the extraction area, the best thing to do is not to move at all when in the extraction zone.
Railway Exfil
All
✔
✘
-
Saferoom Exfil
PMC
✔
✔

Turn on power with switch inside power station
Flush toilet in Burger Spot
Swipe Object 11SR keycard

A switch to power on the Object 14 Container can be found inside the extraction.

Scav camp
All
✔
✘
Player Scav + any PMC
Maps
[
]
2D Map with Callouts/Extractions/Loot/Doors/Key Spawns

Gallery
[
]
Trivia
[
]
The three anchor stores are based off real life stores.

Idea is based off Ikea.
Goshan is based off Auchan.
OLI is based off OBI.

The mall on 'Interchange' is based of the chain of MEGA stores which can be found all over Russia.
The MEGA store in Nizhny Novgorod most closely resembles the one shown in-game.