Kalashnikov AKM 7.62x39 assault rifle

Performance
Recoil %
Vertical: 189
Horizontal: 448
Effective distance
400 m
Ergonomics
26
Firing modes
Single
Full Auto
Rate of fire (RPM)
600
Sighting range
100
The Kalashnikov AKM 7.62x39 assault rifle (AKM) is an assault rifle in Escape from Tarkov.
Description
AKM 7.62x39mm - (Avtomát Kaláshnikova Modernizírovanny - Kalashnikovs Automatic Rifle Modernised) - was adopted in 1959 to replace AK as a standard service weapon of the Soviet Army. Main differences compared to AK: enhanced accuracy range, lower weight, new stock, trigger, hammer retarder, muzzle compensator and other design changes aimed at improving the efficiency of the rifle.
Quests
Quest rewards
Mods
Trading
x3
Can of beef stew (Small)
→

Prapor LL1
→

Kalashnikov AKM 7.62x39 assault rifle
Crafting
|- !
x1
Set of files "Master"
+


x1
Leatherman Multitool
+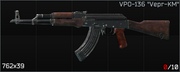 x1
Molot VPO-136 "Vepr-KM" 7.62x39 carbine
+


x1
AKM 7.62x39 muzzle brake & compensator (6P1 0-14) !→ !Workbench level 1
1 h 25 min !→ !
x1
Kalashnikov AKM 7.62x39 assault rifle |}
Weapon variants
See also