Key to KIBA store outlet
Key to KIBA store outlet

General Info
Type
Key
Weight
0.01 kg
Grid size
1x1

Usage
Usage
Unlocks the door to the KIBA firearms store on Interchange
Key to KIBA store outlet (KIBA) is a Key in Escape from Tarkov.
Key to the KIBA equipment store outlet at the Ultra shopping mall.
The power to the mall needs to be turned on to interact with this lock.
This is the first of two keys required to enter the KIBA firearms store. The second key is Key to KIBA Outlet grate door.
If the power to the mall is on an alarm will sound upon opening the door. It, along with every other alarm in the mall, can be deactivated at two different terminals.
In Jackets
Pockets and bags of Scavs
Inside the power station admin room, located on top of a box on a shelf.
At the campsite in the Goshan store, behind a tent on a book.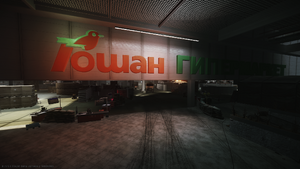 Goshan store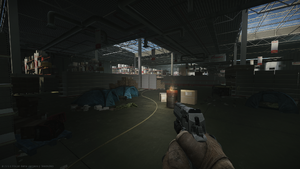 Scav Campsite, location highlighted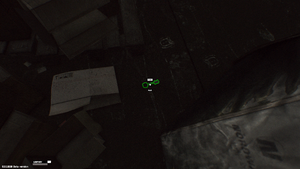 Key on a book near box, behind the 2 tents
A second locked grate door that requires the Key to KIBA Outlet grate door to be opened. Visit the Grate key page for details of Loot available in the store.
x60
Condensed milk
+
x10
Pack of oat flakes
→

Therapist LL4
→

Key to KIBA store outlet