PMAG 30 AK/AKM GEN M3 7.62x39 magazine for AK and compatibles, 30-round capacity
PMAG 30 AK/AKM GEN M3 7.62x39 magazine for AK and compatibles, 30-round capacity

Performance
Ergonomics
-1.5
Check Speed Modifier %
+0
Load/Unload Speed Modifier %
-10
Capacity
30

Looting
Loot experience
10
Examine experience
Examined by default

PMAG 30 AK/AKM GEN M3 7.62x39 magazine for AK and compatibles, 30-round capacity (PMAG30 AK/AKM GEN M3) is a magazine in Escape from Tarkov.
30-round polymer Magpul PMAG 30 AK/AKM GEN3 magazine 7.62x39 AK and compatible weapons. Comes in black and banana style painted.
Easter eggs and References: The Yellow banana PMAG has a QR code on the side that reads "Тебе делать совсем нехуй ?". This roughly translates to "Do you seriously have nothing fucking better to do?"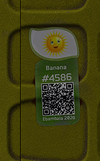 5.7x28mm FN
FN magazine for P90, 50-round capacity · Five-seveN 20-Round 5.7x28 magazine
7.62x39mm/.366 TKM
10 rnds. SKS internal box magazine 7.62x39 · 30-round 7.62x39 magazine for AK-103 and compatible weapons · 7.62x39 ribbed metal magazine for AK and compatibles, 10-round capacity · Bakelite 7.62x39 magazine for AK and compatibles, 40-round capacity · Izhmash 6L10 7.62x39 magazine for AK and compatibles, 30-round capacity · Izhmash 7.62x39 AK aluminium magazine for AK and compatibles, 10-round capacity · Izhmash 7.62x39 AKMS aluminium magazine for AK and compatibles, 30-round capacity · Izhmash AK magazine (issued '55 or later) 30-round for 7.62x39 AK and compatibles · Molot 6P2.Sb-11 7.62x39 magazine for AK and compatibles, 40-round capacity · Palm US AK30 7.62x39 magazine for AK and compatibles, 30-round capacity · PMAG 30 AK/AKM GEN M3 7.62x39 magazine for AK and compatibles, 30-round capacity · ProMag AALVX 35 7.62x39 35-round SKS magazine. · ProMag AK-A-16 73-round 7.62x39 magazine for AKM and compatibles · ProMag SKS-A5 7.62x39 20-round SKS magazine · Molot magazine for AK and compatibles, 75-round capacity · X-47 AK 7.62x39 50 rnd magazine · Metal magazine for VPO-215 and compatibles, .366 TKM 4-round capacity
7.62x51mm NATO
10-round .308 DVL-10 magazine · 5-round .308 M700 magazine · 10-round .308 M700 magazine · 7.62x51 metal magazine for VPO-101 and compatibles, 10-round capacity · 7.62x51 metal magazine for VPO-101 and compatibles, 5-round capacity · British FAL/L1A1 7.62x51 30 rnd magazine · FAL/SA-58 "MMW" 7.62x51 20 rnd plastic mag · FAL/SA-58 7.62x51 10 rnd · FAL/SA-58 7.62x51 20 rnd · FAL/SA-58 7.62x51 30 rnd · M14 30 round 7.62x51 magazine · M1A 20 round 7.62x51 magazine · PMAG SR/LR GEN M3 20 7.62x51 20 rnd · X-14 M14 50 round 7.62x51 magazine · X-FAL FAL/SA-58 7.62x51 50 rnd magazine · Magpul PMAG .308 AC 5-round M700 magazine · Promag AA-70 10-round .308 M700 magazine · Promag AA-70 20-round .308 M700 magazine · 5-round .308 AICS M700 magazine · 10-round .308 AICS M700 magazine · 12-round .308 MDT AICS M700 magazine · Magpul PMAG .308 AC 10-round M700 magazine · KAC Steel 10 7.62x51 10 rnd · KAC Steel 20 7.62x51 20 rnd · 5-round .308 T-5000 magazine
7.62x54mmR
10-round polymer magazine 7.62x54R for SV-98 · 10-round SVD 7.62x54 magazine · 20-round SVD 7.62x54 magazine · 7.62x54r ProMag OPFOR for Archangel Mosin rifle kit, 10-round capacity · Regular 4rnd magazine for Mosin rifle
.338 Lapua Magnum
Sword Int. Mk-18 .338 LM 10-round magazine
9x39mm
10-round 6L24 9x39 VSS magazine · 20-round 6L25 9x39 VSS magazine · 30-round SR3M.130 9x39 SR3M magazine
12.7x55mm STs-130
12.7x55 magazine for ASh-12, 10-round capacity · 12.7x55 magazine for ASh-12, 20-round capacity
12.7x108mm
100 rounds belt