Rogues are a faction of ex-USEC operatives in Escape from Tarkov.
Notes
Rogues have different health values than PMCs and other Scavs.
Rogue Health
Stats


Head: 40

Thorax: 180

Stomach: 130

Arms: 105 each

Legs: 105 each

Total: 770
Location
Rogues are only found on the map Lighthouse, guarding a water treatment plant that they have converted into a base of operations since leaving the private military company USEC. They can also occasionally be found at the peninsula where the lighthouse is located.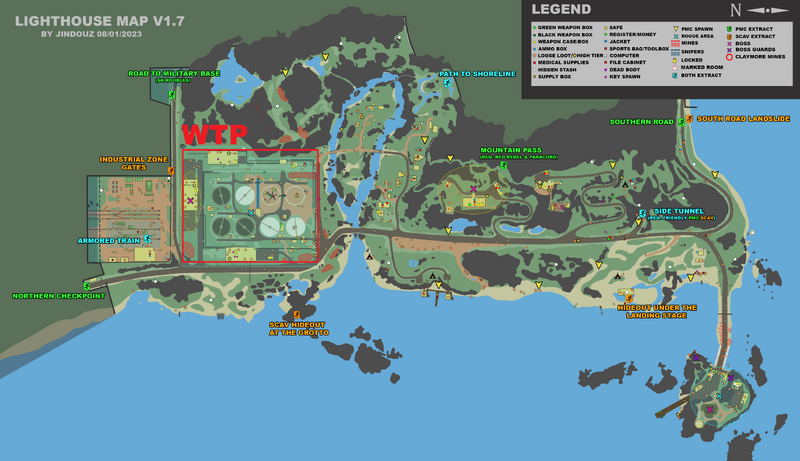 Behaviour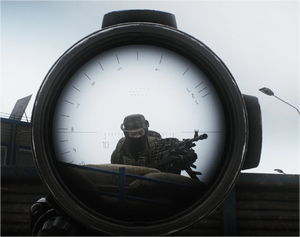 Rogues defend the water treatment plant by patrolling the area and manning emplaced weapons. They will open fire on players who come near the plant, but are more lenient towards USEC PMCs and Scavs. To USEC, Rogues will only engage once they have entered the plant, unless they are in a group with a BEAR PMC.
Rogues often patrol in groups of two to five, and will make use of highly accurate suppressive fire while pushing players. They are extremely dangerous both in close-quarters and medium-range combat, capable of firing in full-auto with laser-like accuracy. They may also use flash grenades or fragmentation grenades against their enemies. Rogues manning either the NSV machine guns or AGS-30 grenade machine guns will typically spot players within 200 to 250 meters, but have been observed to shoot even up to 500 meters accurately. If they are wounded while on a mounted weapon they will abandon the position to fall back and heal before returning to the mounted weapon. If a Rogue manning a mounted weapon is killed, he may be replaced by another Rogue if there is another on the rooftop.
If a USEC player engages the Rogues, they will be considered hostile for their next few raids.
Rogues will not designate player Scavs as hostile on sight, only when they are shot at or otherwise provoked by standing too close. Also, if you climb a tower or a machine gun, you become an enemy for them.
If this happens, they will be considered hostile until the end of the raid. Rogues are subject to shoot on sight any players nearby if they were shot recently including Scavs and PMCs alike no matter your Scav karma.
Strategy
Rogues are similar to Raiders in terms of equipment. Because of this, high-tier ammo is advised, although Rogues do not wear faceshields, so one can try to aim for the face with lower-tier ammo. Rogues hold corners if a hostile PMC is spotted, so be aware to not peek twice.
One way of dispatching Rogues on the mounted machine guns and grenade launchers in the towers is sniping. One key vantage point are the rocks on the beach where you can often snipe the rogues on the southeast entrance of the compound. There are many other sniping locations around the water treatment plant that work for clearing rogues in this manner. Look for rocks overlooking the base to the east and south of the treatment plant.
Beware when approaching the camp, Rogues are accurate and use high tier weapons and ammo that can kill on the first shot. Rogues often travel in groups of 3-4 and suppress and advance on players they spot. A group of PMCs can have one person distract the Rogues while others flank around them. Solo players will often have to reposition similar to regular PVP fights or other raider engagements to outsmart the AI. There are static rogue spawns on the buildings around the plant and on the machine guns, but there is commonly a roaming group of rogues that patrol the interior of the water treatment plant.
For USEC PMCs (or passive scavs) who have not yet been flagged as hostile by rogues: With a RGN or RGO impact grenade, they may be able to get close enough and take out a whole group with one grenade before the rogues open fire. Rogues will fire upon BEAR PMCs with no warning, making this harder to pull off.
Loot
Note that the primary weapons and helmets can have numerous mod variations and those shown below are examples.
Icon
Weapon
Ammunition
Mods
Kalashnikov AK-104 7.62x39 assault rifle
Rotor 43 7.62x39 muzzle brake-compensator
Axion Kobra dovetail mount
SureFire X400 Ultra tactical flashlight with laser
AK Magpul MOE AKM handguard
Valday PS-320 1/6x scope
Kalashnikov AKM 7.62x39 assault rifle
Rotor 43 7.62x39 muzzle brake-compensator


AR-15 DoubleStar ACE SOCOM Gen.4 stock or MFT BUS Stock
EOTech XPS3-0 holographic sight or Aimpoint Micro T-1 reflex sight
TangoDown Stubby BGV-MK46K foregrip


CMMG Mk47 Mutant 7.62x39 assault rifle
Kalashnikov AK-74M 5.45x39 assault rifle
AK Zenit B-10M handguard with B-19 upper mount
AK Zenit DTK-1 7.62x39/5.45x39 muzzle brake-compensator
AK Zenit RK-3 pistol grip
AK Zenit B-33 dust cover
AK-74M/AK-100 Zenit PT Lock
AK Zenit PT-3 "Klassika" stock
AK Zenit RP-1 charging handle
RPK-16 5.45x39 95-round drum magazine
Colt M4A1 5.56x45 assault rifle
Vastly varying
HK 416A5 5.56x45 assault rifle
Eotech HHS-1 (Tan) / Holosun HS401G5 / Cobra EKP-8-18


AR-15 Noveske KX3 5.56x45 flash hider
Magpul AFG grip (FDE)
Hogue OverMolded Rubber Grip

Knight's Armament Company SR-25 7.62x51 marksman rifle
ELCAN SpecterDR 1x/4x scope


KAC QDC 7.62x51 flash suppressor kit
AR-10 KAC "URX 4" 14.5 inch handguard
Magpul M-LOK AFG tactical foregrip
AR-10 7.62x51 KAC 10-round steel magazine
Hogue OverMolded Rubber Grip

FN SCAR-L 5.56x45 assault rifle
EOTech 553 holographic sight or Aimpoint PRO reflex sight


SilencerCo Saker ASR 556 5.56x45 sound suppressor
TangoDown Stubby BGV-MK46K foregrip
AN/PEQ-15 tactical device or AN/PEQ-2 tactical device

Glock 17 9x19 pistol
Glock 9x19 Alpha Wolf custom pistol slide


Glock 9x19 Lone Wolf LWD-COMP9 compensator
Glock Dead Ringer Snake Eye rear sight
Glock Dead Ringer Snake Eye front sight

Colt M45A1 .45 ACP pistol
HK USP .45 ACP pistol
"Zarya" stun grenade
Model 7290 Flash Bang grenade
RGD-5 hand grenade
M67 Hand grenade
Trivia
Rogues can be named:
Aimbotkin
Applejuice
Arizona
Afraid
Auron
Badboy
Baddie
Beard
Beverly
Bison
Blackbird
Blade
Blakemore
Boatswain
Boogerman
Brockley
Bullet
Butcher
Chester
Churchill
Cliffhanger
Condor
Cook
Cougar
Coyote
Crooked
Cross
Dakota
Dawg
Deceit
Denver
Donutop
Duke
Dustin
Father
Firion
Floridaman
Frenzy
Foxy
Garandthumb
Goat
Golden
Grandpa
Grim
Grommet
Gunporn
Handsome
Hellshrimp
Honorable
Instructor
Iowa
James
John
Juggernaut
Justkilo
Kentucky
Lancaster
Lee
Legia
Litton
Lost
Mamba
Marooner
Meldon
Melo
Michigan
Mike
Momma
Mother
Nevada
Nine-hole
Nukem
Ocean
Oklahoma
OneEye
Oskar
Quebec
Racoon
Rage
Rambo
Rassler
Receit
Rib-eye
Riot
Rock
Rocket
Ronny
Rossler
RoughDog
Scar
Scottsdale
Seafarer
Shadow
SharkBait
Sharkkiller
Sherman
Shifty
Slayer
Sly
Snake
Sneaky
Spyke
Stamper
Striker
Texas
Three-Teeth
Trent
Trickster
Triggerhappy
Vicious
Victor
Voodoo
Voss
Wadley
Weasel
Whale-Eye
Whisky
Whitemane
Woodrow
Wrath
Zed
Zero-Zero
Aimbotkin
Applejuice
Arizona
Afraid
Auron
Badboy
Baddie
Beard
Beverly
Bison
Blackbird
Blade
Blakemore
Boatswain
Boogerman
Brockley
Bullet
Butcher
Chester
Churchill
Cliffhanger
Condor
Cook
Cougar
Coyote
Crooked
Cross
Dakota
Dawg
Deceit
Denver
Donutop
Duke
Dustin
Father
Firion
Floridaman
Frenzy
Foxy
Garandthumb
Goat
Golden
Grandpa
Grim
Grommet
Gunporn
Handsome
Hellshrimp
Honorable
Instructor
Iowa
James
John
Juggernaut
Justkilo
Kentucky
Lancaster
Lee
Legia
Litton
Lost
Mamba
Marooner
Meldon
Melo
Michigan
Mike
Momma
Mother
Nevada
Nine-hole
Nukem
Ocean
Oklahoma
OneEye
Oskar
Quebec
Racoon
Rage
Rambo
Rassler
Receit
Rib-eye
Riot
Rock
Rocket
Ronny
Rossler
RoughDog
Scar
Scottsdale
Seafarer
Shadow
SharkBait
Sharkkiller
Sherman
Shifty
Slayer
Sly
Snake
Sneaky
Spyke
Stamper
Striker
Texas
Three-Teeth
Trent
Trickster
Triggerhappy
Vicious
Victor
Voodoo
Voss
Wadley
Weasel
Whale-Eye
Whisky
Whitemane
Woodrow
Wrath
Zed
Zero-Zero