Shoreline

General data
Type
Story location
Duration
50 minutes
Shoreline is a location in Escape from Tarkov and was the fourth location added to the game.
Description
[
]
Shoreline is a large area located on the coastal outskirts of Tarkov, next to the city's port. The area's geography features tracts of undulating woodland, large open fields, jagged cliffs, a swamp and a long stretch of shoreline. Significant man made points of interest include a partially abandoned village, a modern residential development, a boating facility, a gas station, a weather station, a cellular communications tower and the focal point of the map, the Azure Coast Health Resort. This luxury compound consists of three multi-story buildings and was once used as temporary accommodation by members of TerraGroup and its associated divisions as they prepared for the evacuation of Tarkov Port. When operational, the resort draws power from a nearby hydroelectric plant.
Features
[
]
Shoreline is the second largest location in Escape from Tarkov and contains a plethora of areas for players to explore and loot. The large, varied terrain means players can expect to engage in fire fights at both close quarters and long range.
Usable Keys
[
]
Table Legend
[
]
Boss
[
]
Name
Image
Location
Unique Equipment
Followers
Sanitar
Port/Pier Area
Locked cottage area
Health resort east and west wing
Sanitar's bag
2 heavily armed and armored guards
Extractions
[
]
To locate the extractions use the maps below the table.
Extraction
Name
Faction
Always open
Single-Use
Notes
Admin Basement
Scav
✔
✘
-
CCP Temporary
PMC
✘
✘
Searchlights on = open

Minefield along the wall left and right of the extraction

Lighthouse
Scav
✔
✘
-
Pier Boat
PMC
✘
✘
-
Road to Customs
All
✔
✘
-
Rock Passage
PMC
✘
✘
Green smoke by ravine = open
Ruined House Fence
Scav
✔
✘
-
Ruined Road
Scav
✔
✘
-
RWing Gym Entrance
Scav
✔
✘
-
South Fence Passage
Scav
✔
✘
-
Svetliy Dead End
Scav
✔
✘
-
Tunnel
PMC
✔
✘
-
Maps
[
]

2D Map with Callouts/Spawns/Extractions/Key Spawns


3D Map with Callouts/Spawns/Extractions/Key Spawns


Hidden Stashes with Image Guide


Ingame Map - North is towards the bottom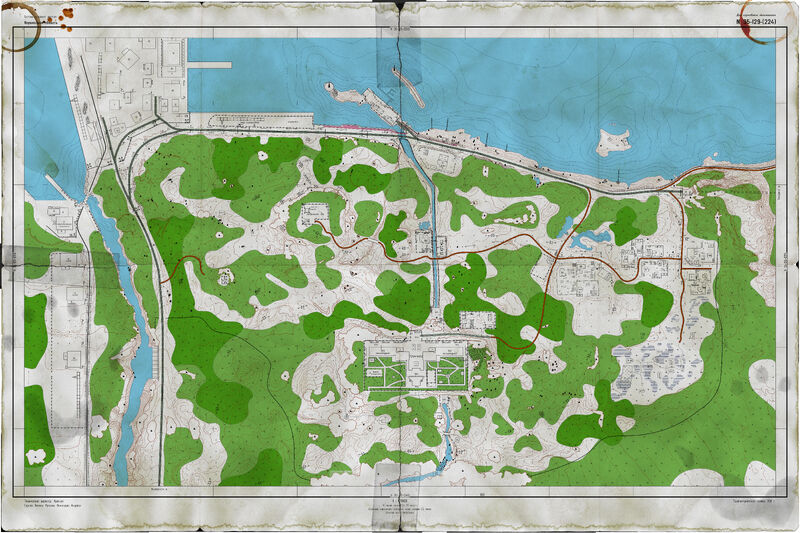 Gallery
[
]
Trivia
[
]
This location is based on the abandoned sanatorium "Strelna" which is located near St. Petersburg.
Link to the location on Google Maps